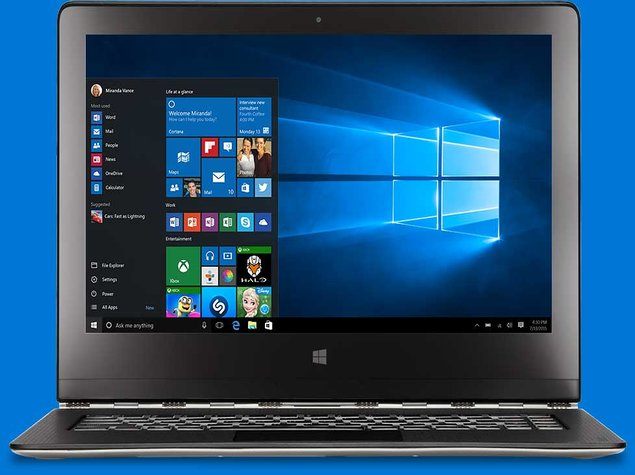 The upgrade to Microsoft's latest desktop operating system Windows 10 is available in 190 countries. If you have decided that you want to use the Windows 10 operating system, you can download and install the new operating system by following the instructions below.
Read Windows 10 Review
Windows 7 (Windows 7), Windows 8 (Windows 8) and Windows 8.1 (Windows 8.1) users will get a free upgrade to Windows 10. However, users running any other older version of Windows will need to purchase it. How you download and install a copy of Windows 10 depends on your computer's operating system. The method will be slightly different for different operating systems. If you don't know much about it, this guide will come in handy. First of all, make sure that your system meets the minimum requirements of Windows 10.
Download Windows 10 ISO
The easiest way to get Windows 10 is to visit Microsoft's website and download the Windows 10 ISO file. Given the size of the download, you need fast internet. Also, save an empty USB or DVD drive that you can burn the ISO file to later. This will allow you to run the installation on your machine. Visit Microsoft's website for more instructions and licensing requirements.
Upgrading from Windows 7 or Windows 8.x
1. Windows Update Open. ,Home menu or Home screen Go to Search Windows Update).
2. If your computer is upgradable, you will see the option to upgrade to Windows 10.
If the update is not available, you will need to manually reserve a copy of Windows 10. You can reserve your copy by following these instructions. If you can't wait for the updated copy and are ready to put in some effort, download the Windows 10 ISO. Instructions on this are given above.
When the Windows 10 update arrives, your computer will automatically start downloading the new update. Upon request, agree to all Microsoft terms and conditions.
Force Download Windows 10 Upgrade
By the way, there is also a way to download the Windows 10 upgrade (if you don't want to wait your turn to upgrade) on the Windows 7 or Windows 8.x operating system. You follow the instructions below.
This is for Windows 7 SP1 and Windows 8.1 (upgrade requires Windows 8 users to upgrade to Windows 8.1) and does not require any specific technical knowledge. This is the way:
1. "C:\Windows\SoftwareDistribution\Download" Navigate to the folder (use the name of the drive where Windows is installed on your system instead of C) and delete all files.
2. open search Windows key Press. in this "Windows Update" Type that will take you to the Windows Update page. User to access this page in the System Control Panel (Control panel) You can also use Settings.
3. to open the search bar again Windows key press and "cmd" type. This will give you a drop-down command prompt with many more options available. Command Prompt Don't choose the option, but Run Until Administrator Select as. You can select it by right clicking on the option.
4. as soon Admin: Command Prompt box opens, "wuauclt.exe update now" Type, but do not press the enter button.
5. Return to the Windows Update menu page again. Select the Check for updates option on the right side of the screen. after clicking Windows Update Resilience "Checking for updates…" We shall see
6. in the meantime, Command Prompt Scroll to the box and press Enter for the command you typed earlier. Lake Windows Update A message will be written on the page that Windows 10 is downloading.
Please note that the size of this update is approximately 6 GB. So check your internet data limit before downloading. It is recommended that you backup all important files and folders on your system before installing the update.
Buy a copy of Windows 10 from a store (preferably for Windows XP users)
1. Connect the Windows 10 USB drive to your computer or insert the Windows 10 disc into the DVD drive.
2. restart your computer.
3. Change the default startup preferences boot from your USB or dvd drive Do it To do this, you need to press the Esc or F1 key before the boot process starts. However, these commands also depend on the manufacturer of your system's motherboard.
4. To continue, press any key and select Next on the screen.
5. Then to install click on
6. If you want to keep your existing OS and files, choose the first option or by selecting Custom you can completely replace your system's existing OS with Windows 10.
If you selected the second option (Custom), you must install Windows 10 on the existing partition or delete a partition and create a new partition first. In either case, the options will be present on your screen. When everything is complete, click Next.
Now Windows 10 will be installed on your computer. This process will take some time, so be patient.
If you are using Windows 10 Developer Preview
You don't have to do anything special. Microsoft will automatically download the latest update on your system and bring you to the latest version of Windows 10.